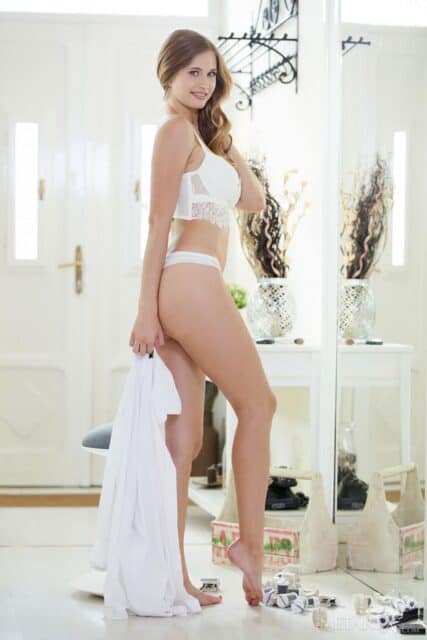 Click here to watch Stella Cardo in "Reflections" at Met Art X
Stella Cardo – Personal Info
Name : Stella Cardo
Date of Birth : May 19th
Star Sign : Taurus
Measurements : 32D – 25 – 35
Height : 5'9 (1.75m)
Hair Colour : Blonde
Eye Colour : Blue/Grey
Years Active : 2018 – present
Number of Scenes : 20+
Stella Cardo is a stunning tall blonde pornstar, camgirl, content creator and model who made her porn debut in late 2019. During this time, Stella Cardo attracted an avid global fan following due to her amazing all natural big tits, epic live cam shows and sensual sex scenes for Joymii, Sex Art and Viv Thomas.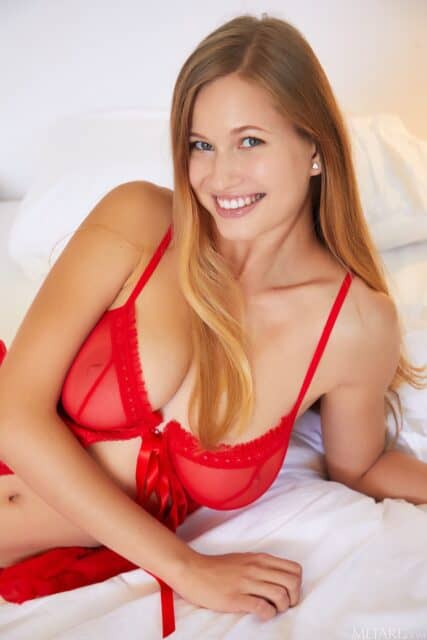 Click here to watch Stella Cardo in "Crimson Lace" at Met Art
So where did it all begin? Hailing from Odessa, Ukraine, Stella Cardo studied Economics at college and she speaks English and Russian. Natural busty beauty Stella Cardo first began working in the adult entertainment industry in 2018 as a webcam model. In fact, Stella Cardo continues to hosts many lusty live cam shows on Chaturbate as 'stella_and_stephan'. Moreover, Stella Cardo is an independent content creator who films a wide range of exclusive videos and photo sets for her international fan following. As statuesque stunner Stella Cardo hotly hints via her official ManyVids account;
"Hi! Thanks for reading my profile! My name is Stella & I'm student of economics. Sometimes I also model some dresses! I'm friendly and easy going girl. Love to have some fun with internet buddies and make new friends. I like listening to different music and dancing. My latest hobby is pole dance. I'm addicted to cats and sex ;). So, welcome to my world, enjoy this and don't be shy".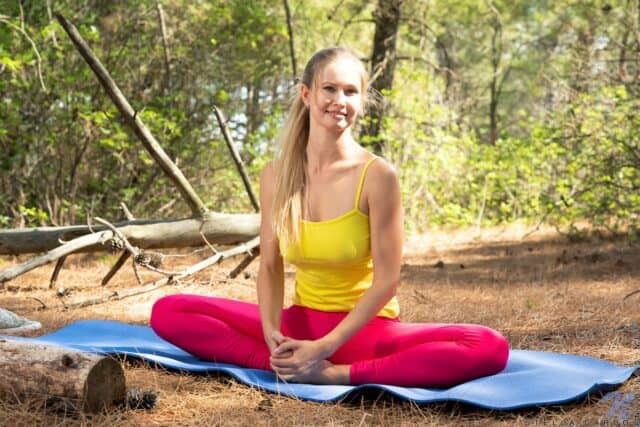 Click here to watch Stella Cardo in "Yoga Babe" at Nubiles
Stella Cardo : Adult Film Career
Tallest Ukrainian pornstar Stella Cardo made her official porn debut in late 2019. Many of Stella Cardo's initial sex scenes were filmed for the Met Art lesbian porn site Viv Thomas. For example, you'll love watching Stella Cardo's sensual Please Me sex scene with Dorothy Black in September 2019 and her thrilling Know Thy Neighbor three-way with Dorothy Black and Stella Flex in October 2019. As the scene description saucily states;
"Stunning Dorothy Black is sitting in the garden. Chatting with cute Stella Flex as Sandra Shine's hot lesbian movie Know Thy Neighbor begins. When the perky brunette sees her busty girlfriend Stella Cardo arrive home, she goes upstairs to greet her. But while the pretty blonde takes a shower, Stella Flex rushes back down to the garden. To kiss Dorothy. As Stella Cardo soaps up her big breasts and shaved pussy, her girlfriend is getting intimate with their sexy neighbor. Caressing her gorgeous boobs. Jiggling them and sucking her nipples avidly. She pulls Dorothy's see-through panties aside and eats her pierced pussy. Giving her an intense orgasm.
Stella dashes back upstairs. Pulling off her girlfriend's towel and stroking her voluptuous body. She kisses her way down to the blonde's shaved slit. Lapping and sucking skilfully to make the curvy babe gasp with pleasure. She slides two fingers into her sweetheart's juicy groove. As she licks her to a powerful climax. They are interrupted when Stella Cardo takes a phone call from work. So Stella Flex sneaks back to Dorothy's backyard. The MILF beauty is delighted to give her naughty neighbor the attention she craves. Pulling down her shorts and fingerbanging her audibly wet pussy. Then eating her to a breathless orgasm".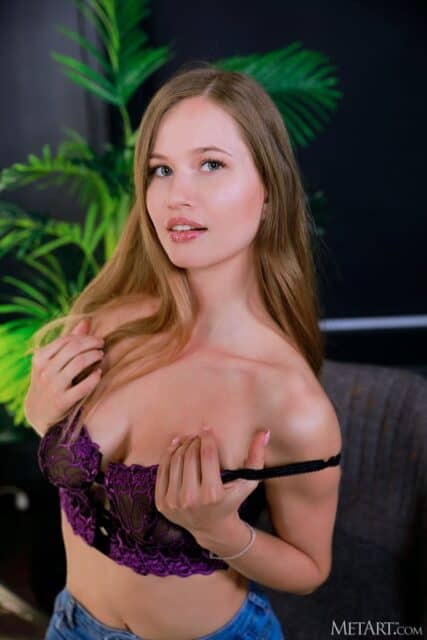 Click here to watch Stella Cardo in "Personal Light" at Met Art
Furthermore, Stella Cardo filmed a fantastic Nylon Desire sex scene with Lika Star in November 2019 and she shared a steamy Feeling Festive sex scene with Romy Indy in December 2019. Consequently, Stella Cardo was featured in the Viv Thomas movie Sapphic Desires #2 (2020) alongside sexiest lesbian pornstars Dorothy Black, Stella Flex, Evelina Darling, Lika Star, Sarah Cute and Allatra Hot. In fact, Stella Cardo also starred in (and posed as the box cover model for) the Viv Thomas release The Taste Of A Woman #2 (2020). This amazing all-girl porn production showcases Stella Cardo alongside popular pornstars Lika Star, Aislin, Alya Stark, Blue Angel and Liv Revamped. As the DVD description raunchily reveals;
"It's a taste not easily forgotten. The flavor is unmistakeable. And once that sweet nectar is on your lips, you can never get enough. Viv Thomas presents 4 unforgettable scenes of hungry women indulging in their favorite meal. From chance encounters. To women taking their friendship to the next level. Learn how passion is better when marinated in the taste of a woman".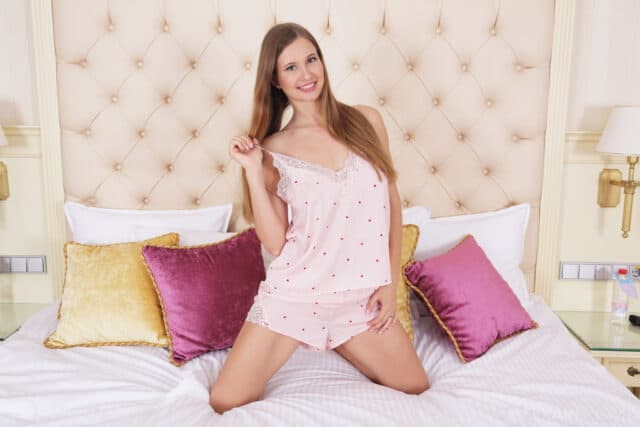 Click here to watch Stella Cardo in "Pillows" at Sex Art
Stella Cardo : Popular Porn Productions
Many of beautiful blonde bombshell Stella Cardo's most popular porn productions were filmed for the Met Art porn site Sex Art. For instance, you'll love viewing busty beauty Stella Cardo's sizzling Street Romance, Love This Morning and Innocent Love sex scenes with her partner Stephan Cardo in October 2019, March 2020 and April 2020. As the scene description for Street Romance hotly hints;
"Gorgeous Stella Cardo meets her boyfriend Stephan Cardo on the corner. As Andrej Lupin's erotic movie 'Street Romance' begins. They ride their scooters through the streets of Prague together. Enjoying the sights and each other's company. Back home, the romantic mood continues. As Stephan caresses his sweetheart's big beautiful breasts adoringly. Kissing her and sucking her nipples.
She frees his stiff cock from his jeans. Gazing into his eyes lovingly as she strokes it. Then kneels to lick and suck it avidly. Peeling off her tight yoga pants, Stella squeezes her soft boobs around her man's dick. Then straddles him and guides it into her tight pussy. Riding slowly and sensuously. Then picking up the pace until her breasts are bouncing hypnotically. She moans and gasps with pleasure…".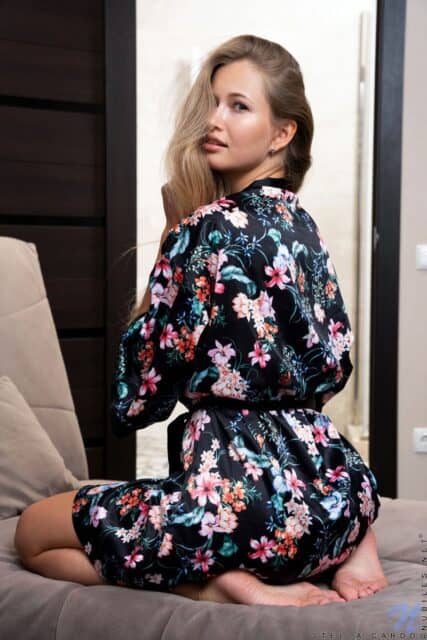 Click here to watch Stella Cardo in "Slippery Fun" at Nubiles
Moreover, curvy athletic pornstar Stella Cardo shared a thrilling Transcendent three-way with Kira Queen and Stephan Cardo in December 2019 and she shot a steamy Observe girl/girl sex scene with Jenifer Jane in January 2020. In particular, you'll love watching natural big boobs and big booty pornstar Stella Cardo's sensual Heart Of Mine sex scene with Emylia Argan for Sex Art in July 2020. As the scene description saucily states;
"Busty beauties Stella Cardo and Emylia Argan are cuddled up together on a loveseat. As Andrej Lupin's hot lesbian movie 'Heart Of Mine' begins. Their tender kisses grow passionate. Stella giggling as her sweetheart unbuttons her shirt. And lavishes attention on her big natural breasts. Sucking her stiffening nipples. Emylia kisses her way down Stella's voluptuous body. Peeling off her white panties and stroking her clit softly. She licks Stella's shaved pussy skilfully. Squeezing her breasts as she eats her. Until she's shuddering to an intense orgasm. Emylia straddles Stella's face. Grinding her hairy pussy on her tongue. And enjoying a powerful climax. She sits with thighs spread wide. And Stella sucks her nipples and fingerbangs her to another breathless orgasm".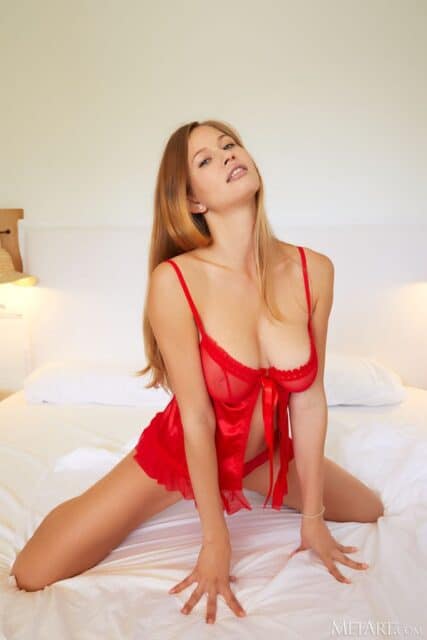 Click here to watch Stella Cardo in "Crimson Lace" at Met Art
But that's not all. In addition to her ongoing Sex Art collaborations, busty rising pornstar Stella Cardo shoots many spectacular sex scenes for Joymii. For example, you'll love watching Stella Cardo's saucy The Computer Guy and Vacation In Bliss sex scenes with Stephan Cardo in October 2019 and February 2020. Consequently, Stella Cardo was featured in the Joymii movie Let Me Seduce You (2020) alongside prettiest pornstars Luna Rival, Anita Bellini, Nata Ocean and Luna Silver. As the DVD description raunchily reveals;
"When Nick A gets out of the shower, he wants to use his shiny clean cock to fuck his perfect girlfriend Anita Bellini. She knows how to please him and he can't resist her tiny wet pussy. Stella Cardo is so happy to have Stephan Cardo fixing her computer. He's so incredibly cute, she's wondering if he's a virgin. The thought of popping Stephan's cherry is kind of turning her on.
While studying together, Luna Rival and her friend Charlie Dean contemplate losing touch in their post-college careers. A spark occurs between them that they've both been fighting for some time. It's time to consummate their attraction. Luna Silver can't believe her mom sent her to do such a boring job. But Nick Ross might have an idea to amuse her. Nata Ocean gets an idea and hops on top of Nick R. And starts to lick him hoping to wake him. He's startled but aroused and turns over. Putting his thick cock inside of her wet pussy".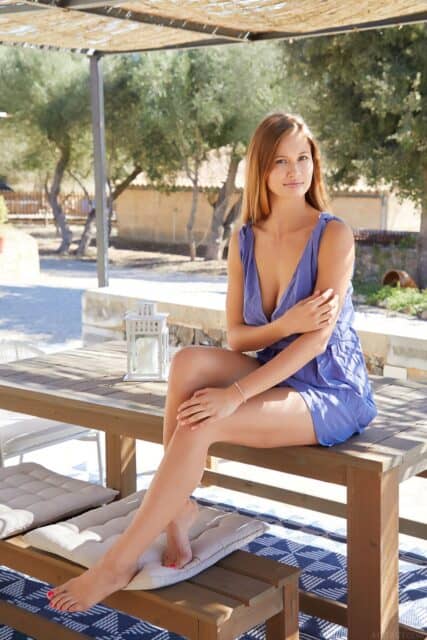 Click here to watch Stella Cardo in "Softness" at Met Art
Stella Cardo : Fan-Favorite Sex Scenes
You'll be happy to hear that fit all natural pornstar Stella Cardo continues to star in an impressive collection of fan-favorite sex scenes. For instance, you'll love viewing Stella Cardo's kinky Mens Room 2 solo scene for The Life Erotic in October 2019 and her steamy Reflections solo scene for Met Art X in January 2020. Furthermore, thick tall pornstar Stella Cardo starred in a sultry My Time solo scene for Met Art in December 2020 and she filmed some seductive Stella's Debut and Stunning solo scenes for Femjoy in February and April 2021. In particular, Stella Cardo appeared in some amazing Halloween Hottie, Morning Delight, Slippery Fun and Yoga Babe solo scenes for Nubiles in October 2020. As the scene description for Yoga Babe hotly hints;
"What better way to keep her curvy figure fit and fuckable, than for Stella Cardo to do lots of yoga? She goes to a secret outdoor location. That lets her slowly ditch her clothes as she stretches. Giving her plenty of opportunity to feel up them titties. Before she focuses on masturbating her cum loving twat".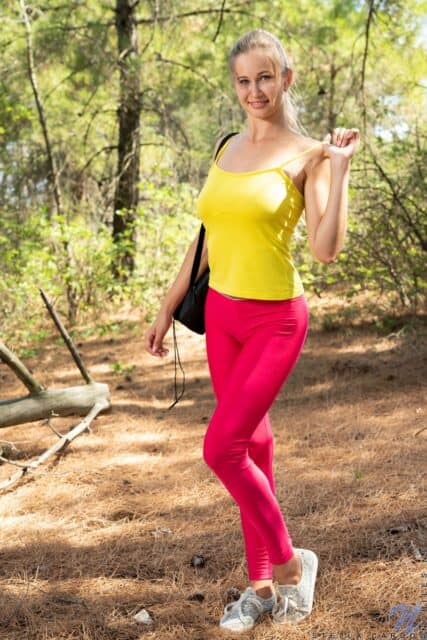 Click here to watch Stella Cardo in "Yoga Babe" at Nubiles
But hold on, it gets even better. In fact, busty rising starlet Stella Cardo treats her fans to many incredible VR porn scenes. Always wanted to share a sex scene with a tall Ukrainian pornstar with big natural tits? Then you'll love immersing yourself within Stella Cardo's raunchy Called A Boyfriend, Fucked A Brother and Stella's Private World VR fetish porn scenes for Virtual Taboo in September and October 2019. As the scene description for Stella's Private World saucily states;
"Things were already really bad at work. So the last thing you needed was something to make it worse. When your boss called you into his office, you were pretty sure it was to fire you. You were shocked to find Stella, his beautiful young daughter, waiting as well. He was running late for his lunch date with her. You hoped to slip out. And that he might forget about your meeting after lunch with his daughter. But Stella asked you to stay and wait with her.
Her stunning beauty made you nervous. As you tried desperately not to notice how short her dress was. Or how she seemed to be flirting with you just a little. Trying to make small talk while she was staring at you was difficult enough. But when Stella stood up and turned around, you almost lost it. She bent over slightly. Letting her dress ride high and her ass arch out. The daring young beauty was far from finished…".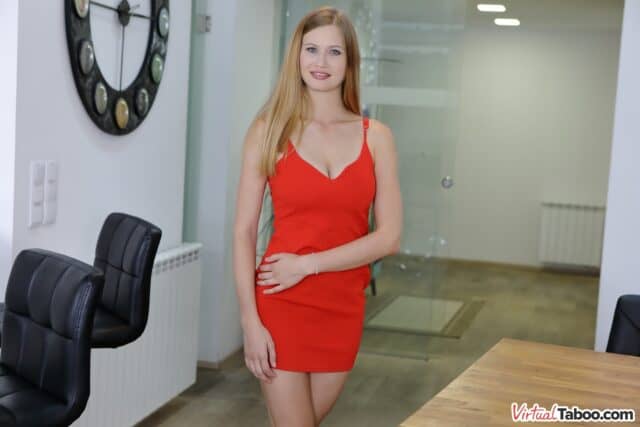 Click here to experience "Stella's Private World" with Stella Cardo at Virtual Taboo
Moreover, busty blonde beauty Stella Cardo filmed a fantastic Umbrella Of Love VR porn scene for 18VR in September 2019 and she shot a sizzling Big Breast Theory VR fantasy sex scene with Stacy Cruz for Babe VR in June 2020. Most notably, all natural rising pornstar Stella Cardo starred in a kinky Black Cat: A XXX Parody VR parody porn scene for VR Cosplay X in February 2020. As the scene description raunchily reveals;
"Oh, Spidey. Keep it professional, would ya? Two weeks ago, you started surveilling Black Cat. After receiving a tip that she was planning to rob a bank. But once you started taking photos 'for evidence', you got in a little too deep. Your lens began to focus on her perfect ass. And that Goddess-like cleavage bursting out of that tight latex suit. Today, she's caught you spying on her. Initially a little upset, her anger turns to curiosity. And before you know it, she's unzipping that catsuit of hers. And running her fingers along her wet pussy. This might be some kind of diversion tactic. But who gives a fuck? Now's your chance, Mr. Parker. Get inside this naughty pussy. Make it purr".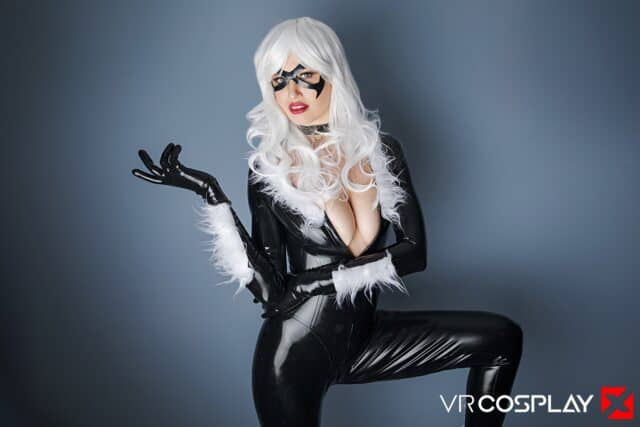 Click here to experience "Black Cat A XXX Parody" with Stella Cardo at VR Cosplay X
When she isn't shooting these spectacular sex scenes, fit and athletic pornstar Stella Cardo enjoys chatting with her fans on social media. In fact, natural busty beauty Stella Cardo is a talented webcam model who hosts lusty live cam shows on Chaturbate as 'stella_and_stephan'. Furthermore, blonde stunner Stella Cardo shoots many exciting videos for her official FanCentro, ManyVids and OnlyFans accounts. As rapidly rising pornstar Stella Cardo hotly hints via her official FanCentro account;
"Hey dear, I'm happy to see you on my profile! :). On my Premium stories I post the naughtiest xxx shows every day! Subscribe now and chat with me. Get know me better and become part of my life! :). Click stories button and scroll to the right to see all my subscription offers! My shows include: Lots of nudity (including in public places). Solo masturbating. Playing with toys. Boy/girl sex. Blowjobs. Facials and creampie. Girl/girl shows. Shower shows. Oil shows. Feet fetishes. And much more…
I also take requests and provide personalized custom content for you! In my free time we could even make a videocall with you. And you can make me cum with interactive toys! Don't be shy to ask me for the price and I will schedule time for you after purchasing. This will make your time with me unforgettable :). I'm so excited for you to join so I can make you cum as never before. Watch how you jerk off for me. And get close to each other. I wanna see how hard I could make your sexy dick. And get wet for you with your dirtiest thoughts. What are you waiting for? :)".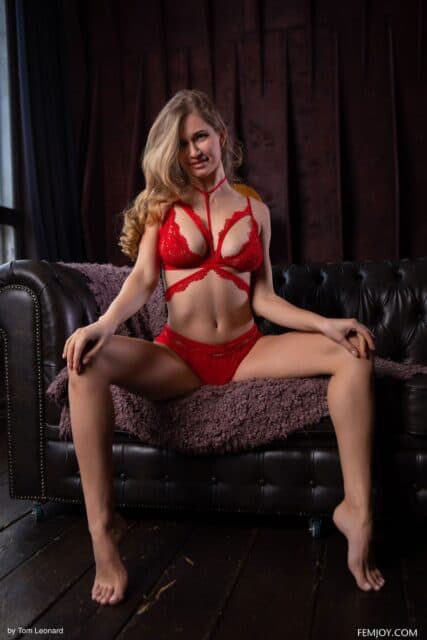 Click here to watch Stella Cardo in "Stella's Debut" at Femjoy
Keen to stay connected with your favorite busty Ukrainian pornstar Stella Cardo? Then use the links provided below to discover all of tall stunner Stella Cardo's hottest sex scenes, exclusive web content and upcoming live cam shows!
Stella Cardo – Social Networks
Twitter : @StellaStephan69
Babe VR : Stella at Babe VR
Chaturbate : stella_and_stephan
FanCentro : stellalove
Femjoy : Stella at Femjoy
Instagram : @stella_cardo_official
Joymii : Stella at Joymii
ManyVids : Stella-Cardo
Met Art : Stella at Met Art
Met Art X : Stella at Met Art X
Nubiles : Stella at Nubiles
OnlyFans : stellacardo
Sex Art : Stella at Sex Art
The Life Erotic : Stella at The Life Erotic
Virtual Taboo : Stella at Virtual Taboo
Viv Thomas : Stella at Viv Thomas
VR Cosplay X : Stella at VR Cosplay X
18 VR : Stella at 18 VR