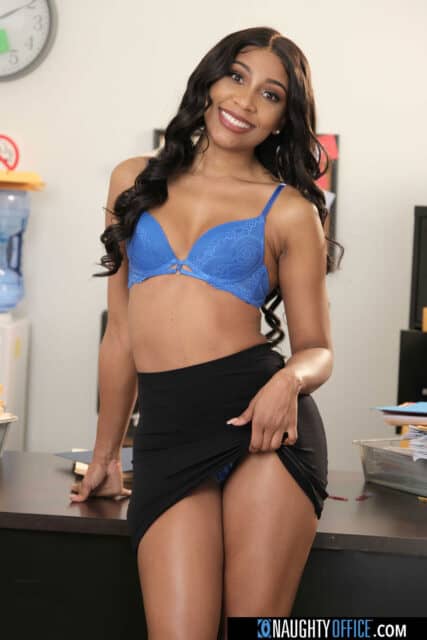 Click here to watch Olivia Jayy in "Naughty Office" at Naughty America
Olivia Jayy – Personal Info
Name : Olivia Jayy
Date of Birth : December 25th
Star Sign : Capricorn
Measurements : 32A – 24 – 34
Height : 5'6 (1.68m)
Hair Colour : Black
Eye Colour : Brown
Shoe Size : Women's 7 (US)
Years Active : 2020 – present
Number of Scenes : 10+
Olivia Jayy is a popular all natural pornstar, content creator and model who began performing in porn in late 2020. During this time, gorgeous black pornstar Olivia Jayy attracted a loyal fan following due to her steamy sex scenes for Brazzers, Naughty America and Team Skeet.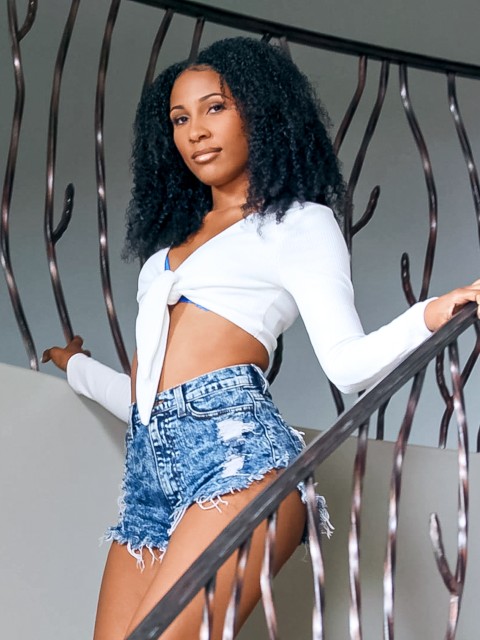 Click here to watch Olivia Jayy in "House Sitter's Hardcore Booty Call" at Reality Kings
Olivia Jayy : Adult Film Career
Hailing from Los Angeles, California, curvy rising pornstar Olivia Jayy first started working in the adult entertainment industry as an exotic dancer whilst she was attending college. Upon graduating from college, Olivia Jayy stopped dancing and she found a 9 to 5 job. However, Olivia Jayy started webcamming when the pandemic hit and she quickly attracted the attention of several adult talent agencies. In this manner, all natural athletic stunner Olivia Jayy made her official porn debut in late 2020 and she is represented by OC Modeling. As Olivia Jayy's official Brazzers profile explains;
"Ms Olivia Jayy worked her way through college by working the pole. But once she got her diploma she dipped out of the XXX life…Until 2020 happened and her 9-to-5 suddenly disappeared. Olivia set up her webcam. And this born performer started putting on such amazing shows, she was soon being courted by several agencies eager to sign her as a porn starlet! A 'Throat Goddess' and 'Lifestyle Squirter', Olivia says that this time she's here to stay. Not only does she look incredible with her booty bouncing as she takes a dick deep in doggystyle, she's also got her eye on producing. So that she can bring even more of her creatively dirty dreams to life".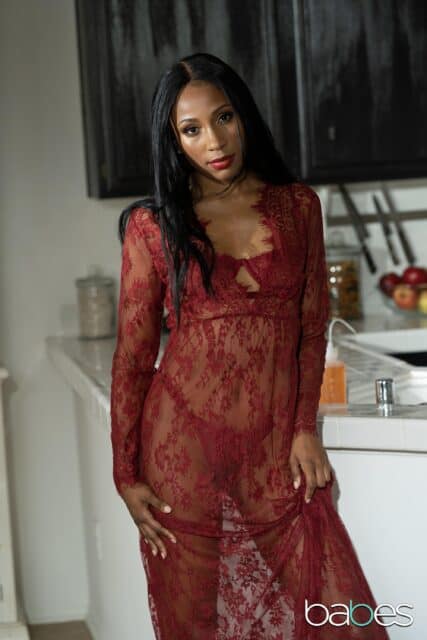 Click here to watch Olivia Jayy in "Appetizing Spread" at Babes
Some of Olivia Jayy's earliest porn productions include her sizzling She Has Talent sex scene with Tee Reel for Casting Couch HD in September 2020. Moreover, natural big booty pornstar Olivia Jayy filmed an amazing Erection Night VR porn scene for WankzVR in November 2020. In fact, thick rising starlet Olivia Jayy received high praise from WankzVR's Darrell Rosebush who expressed during a November 2020 XBIZ News press release that;
"In 'Erection Night', Jayy agrees to a seriously sexy bet as the fate of democracy hangs in the balance. The electoral map starts to fill up. And soon Olivia will be filled up, too. When her candidate falls behind, it is time for Olivia to pay up with sweet booty. Sure, you could say we were late with our 'Erection Night' scene. But to be fair the 'Erection' results were slow to come in, too. Olivia did a great job pushing the narrative along and provides a new way to celebrate a truly historic night in politics".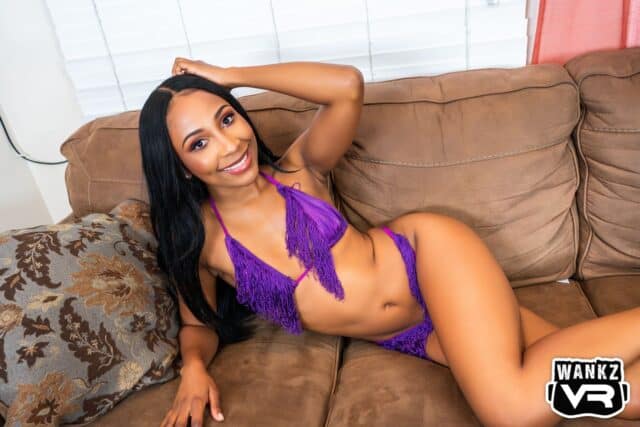 Click here to experience "Erection Night" with Olivia Jayy at Wankz VR
Furthermore, Olivia Jayy filmed a fantastic Gorgeous Olivia's Lapdance sex scene with Rico Strong for All Black X in October 2020. Consequently, this epic porn scene was showcased in the All Black X movie Black Beauties #2 (2021) which also stars hottest black pornstars Asia Rae, Zaawaadi, Gia Vendetti and Nicole Kitt. As the DVD description hotly hints;
"Black porn! Their sexual awakening is right here in front of you. In the adult DVD Black Beauties 2 as it unfolds on film! Stunning, youthful ebony girls are showing off their goods. And choking down the wood!".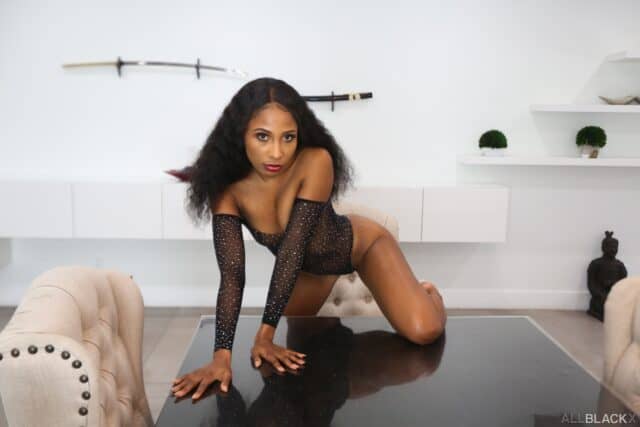 Click here to watch Olivia Jayy in "Gorgeous Olivia's Lapdance" at All Black X/X Empire
Olivia Jayy : Popular Porn Productions
Many of Olivia Jayy's most popular porn productions were filmed for Team Skeet. In fact, beautiful big butt pornstar Olivia Jayy continues to appear on several of Team Skeet's best web channels. For example, you'll love watching Olivia Jayy's kinky Doctor's Orders medical roleplay porn scene with Wrex Oliver for Perv Doctor in December 2020. Moreover, curvy all natural stunner Olivia Jayy shot a raunchy Best Energy Boost POV sex scene for Perv Mom in December 2020. As the scene description saucily states;
"Stunning stepmom Olivia Jayy is always there to listen to stepson Tony's concerns. But this time, his request is a little devious. Lucky for him, Olivia is very open minded. And willing to help Tony get his energy up".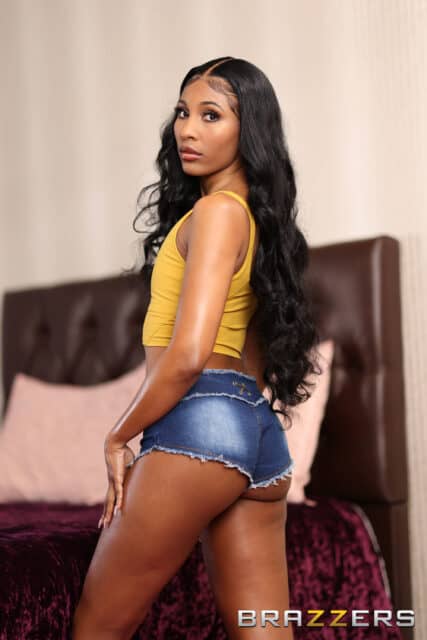 Click here to watch Olivia Jayy in "Double Pop Nylon Runner Swap" at Brazzers
But wait, there's even more. For instance, you'll love viewing Olivia Jayy's sizzling We're Not Related, We're Neighbors! three-way with sexiest redhead Keely Rose and Donnie Rock for Team Skeet Labs in January 2021. In particular, prettiest black pornstar Olivia Jayy starred in a steamy No Nut Challenge Fail sex scene with Donnie Rock for Team Skeet Labs in March 2021. As the scene description raunchily reveals;
"ALERT: We need your help! These TS Labs updates are our way of putting out new stuff for you. Your feedback drives everything. So if you love it, please tell us. If you hate it, please let us know what we can do better. We're counting on you so please tell us! On that note, here's the latest scene. Olivia Jayy tells Donnie Rock that he must do the 'no nut challenge'. Which consists in her doing sexual things to him while he has to resist the urge to nut!
Donnie accepts the challenge. And even takes it to the next level when he asks if they can fuck. At the end, Olivia will be getting a huge load on her face. As she proclaims Donnie as a loser! Please don't forget to comment and let us know what you like and dislike! We're in the lab working on something for the next update already too!".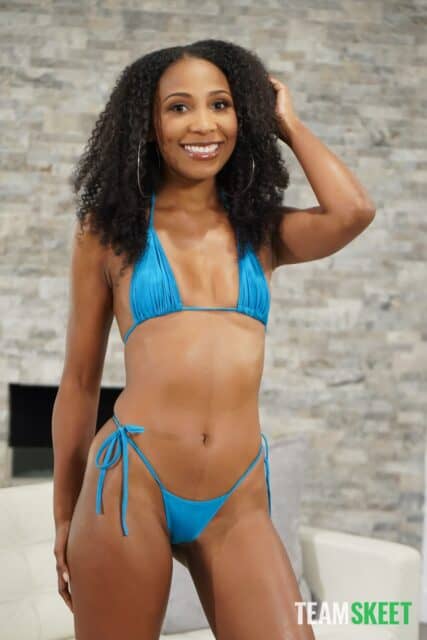 Click here to watch Olivia Jayy in "We're Not Related, We're Neighbors!" at Team Skeet Labs
Olivia Jayy : Fan-Favorite Sex Scenes
You'll be happy to hear that fit rising starlet Olivia Jayy continues to shoot many sensational sex scenes. Our top picks? They'd have to be Olivia Jayy's raunchy House Sitter's Hardcore Booty Call sex scene with Ricky Johnson for Reality Kings in February 2021 and her steamy Naughty Office sex scene with Brad Newman for Naughty America in February 2021. As the scene description hotly hints;
"Olivia Jayy photocopied her tits at work. And misplaced them in a file that her co-worker Brad has in his desk. She desperately needs to get it back before anyone sees them! Olivia tries to look for them while Brad is in a phone call. But he catches her red handed. Now the only way to get out of this one is by fucking Brad right there on the spot".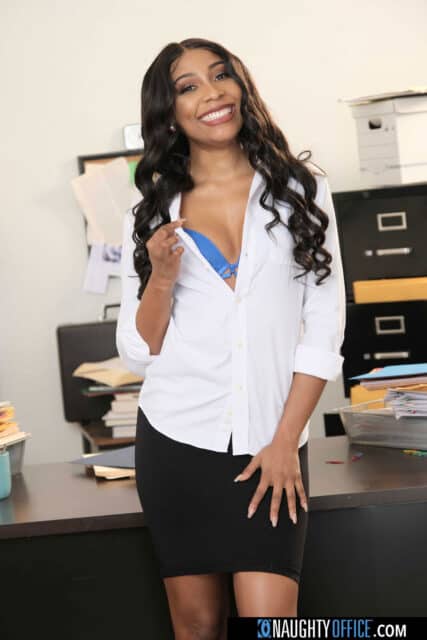 Click here to watch Olivia Jayy in "Naughty Office" at Naughty America
But hold on, it gets even better. For example, we recommend watching Olivia Jayy's epic Olivia Jayy Sucks Cock All Day oral sex scene with Jason Moody for Throated in February 2021 and her sensual Appetizing Spread sex scene with Seth Gamble for Babes in March 2021. Furthermore, petite all natural pornstar Olivia Jayy shared a thrilling Double Pop Nylon Runner Swap three-way with Blake Blossom and Xander Corvus for Brazzers in April 2021. As the scene description saucily states;
"Blake Blossom is a blonde bombshell who catches Xander Corvus jerking off in her nylons yet again. She's had enough. But her badass babe of a roommate, Olivia Jay, digs it. And yoinks Xander out of the room by his dick behind her back. She takes him to her room. Wraps his cock in the stocking. And sucks it hard. Xander's worried they might get caught. But Olivia isn't afraid of Blake. Olivia squirts all over Xander's cock. And Blake walks in. Right before Xander's about to bust his load. She takes over and shows Olivia how a real cum slut does it. Blake makes Xander take a seat and watch her fuck Olivia. Blake scissors with Olivia until she decides she wants Xander's cock involved. And he joins the threesome of his dreams".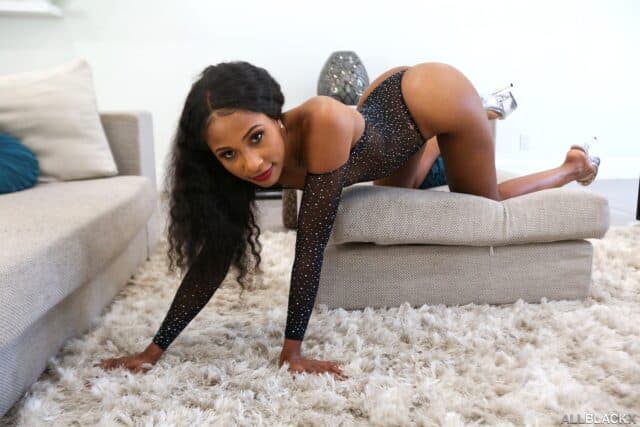 Click here to watch Olivia Jayy in "Gorgeous Olivia's Lapdance" at All Black X/X Empire
Most notably, curvy and thick black pornstar Olivia Jayy shot a steamy Naked: Olivia & Will sex scene with Will Pounder for Digital Playground in February 2021. This unique Naked porn series offers viewers an exclusive glimpse behind-the-scenes so that you can see how performers are working in porn during an unprecedented global pandemic. Moreover, fit natural beauty Olivia Jayy received an ardent endorsement from her Naked co-star Will Pounder who highlighted in a February 2021 AVN press release how;
"Olivia Jayy was a breath of fresh air in my first scene back after the COVID break. She cashed in a one-way ticket to pound town which ended in a blast!".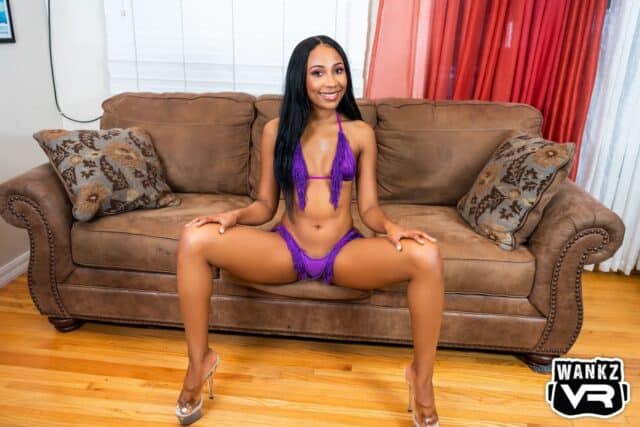 Click here to experience "Erection Night" with Olivia Jayy at Wankz VR
When she isn't shooting these spectacular sex scenes, all natural black pornstar Olivia Jayy enjoys chatting with her fans on social media. In fact, Olivia Jayy also shoots exciting videos for her official ManyVids and OnlyFans accounts. As pretty rising pornstar Olivia Jayy raunchily reveals;
"Welcome to my world & thank you for subscribing! I enjoy re-enacting sex scenes ; roleplay, fetish, and masturbation. Wanna see something I haven't posted? Send a TIP + NOTE, & I'll fulfill your wishes …".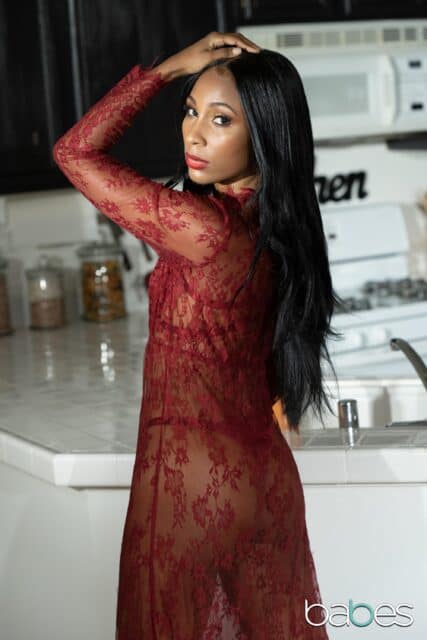 Click here to watch Olivia Jayy in "Appetizing Spread" at Babes
Keen to stay connected with your favorite curvy black pornstar Olivia Jayy? Then use the links provided below to discover all of fit bubble butt beauty Olivia Jayy's hottest sex scenes, exclusive web content and upcoming porn productions!
Olivia Jayy – Social Networks
Twitter : @OliviaJayXXX
Babes : Olivia at Babes
Brazzers : Olivia at Brazzers
Digital Playground : Olivia at Digital Playground
Instagram : @itsoliviajayy
ManyVids : Olivia_Jayy
Naughty America : Olivia at Naughty America
OnlyFans : olivia_jayy
Perv Mom : Olivia at Perv Mom
Reality Kings : Olivia at Reality Kings
Team Skeet : Olivia at Team Skeet
Throated : Olivia at Throated
Wankz VR : Olivia at Wankz VR
X Empire : Olivia at X Empire